COP out for Cameron?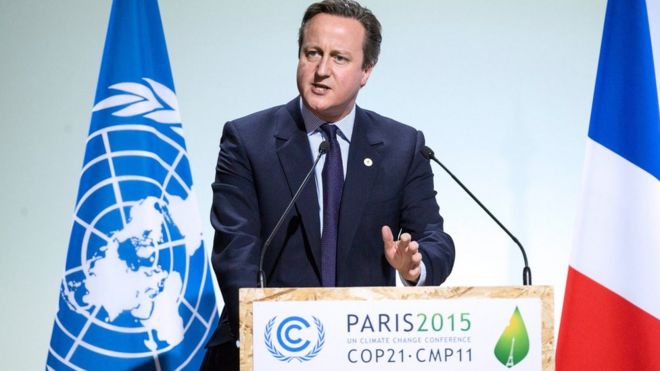 Image: BBC News
With the final dotting of I's and crossing of T's on a future global climate change framework, now seems a good time to ask how this will impact a Conservative Government that has been under fire from the green lobby.
For many who are engaged on environmental issues or green energy, the rhetoric from the Government on Britain's place as a world leader in climate change has fallen on deaf ears. For them the damage had been done. It is hard for many to deny that since the General Election there have been policy changes that call into questions the Government's commitment to shifting to a low carbon economy. Even in the past two weeks the Government has had to admit that it will miss its 4th Carbon Budget and will be raising the VAT on solar and onshore wind from 5% to 20%. 
Paris has given added opportunity for those with an axe to grind against the Government. This is understandable time to put pressure on the Government because climate change policy is unlikely to be at the forefront of No.10's mind at any other point on the political calendar. This has manifested itself as headlines and quotes accusing the Government of "hypocrisy" and "lacking credibility" with its domestic energy policy undermining its international standing at Paris.
However, at the end of the day the only headline that will cross over will be that an agreement was made and the history books will say that it happened under a Conservative Government. The fact still remains that the UK was a trailblazer with the Climate Change Act and this has allowed successive governments to dine out on this in the international arena. This by no means redeems alleged reports of "cut the green crap" and if carbon budgets and renewable targets are continually missed their ability to cite the Climate Change Act will run out. But the COP21 agreement will act as Cameron's get out of jail free card for some time when his environmental credentials come under scrutiny.
However, there is one huge elephant in the room that could undo all of this: the EU referendum. It will be through Brussels legislation that COP21 is enacted, not Westminster, therefore the UK's accountability lasts only as long as it stays as a member of the union. The EU's ability to trump domestic energy policy is already a bone of contention for euro sceptics. Dissenting voices in the House of Commons against the EU and government support for renewables can often be heard coming from the same seats. So COP21 commitments could be more fuel to Eurosceptic fire. If the UK was to leave the EU, the UK's commitment to COP21 and future action to tackle climate change may have to be renegotiated and completely reworked.
Metin Parlak