Women's football in FIFA 16: Great news but the final whistle is a long way off
Ash – our resident FIFA game fanatic – and Sophie - a slightly more sceptical onlooker - take a look at the inclusion of women's international teams in EA Sports FIFA 16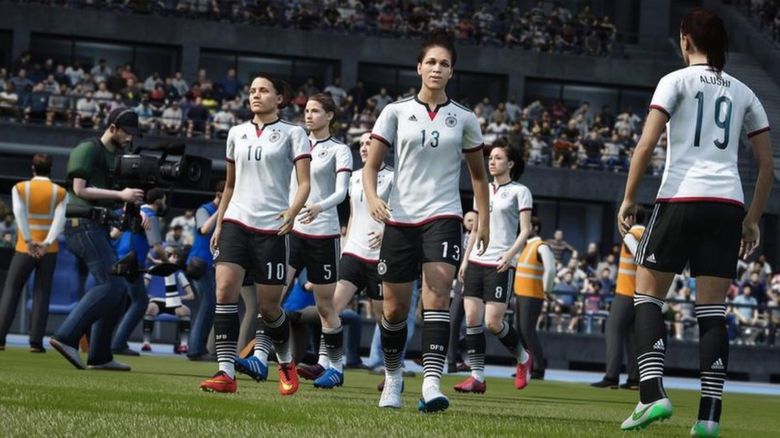 Following the news that women's international teams will be #INTHEGAME for the latest EA Sports FIFA game, Ash – our resident FIFA game fanatic – and Sophie - a slightly more sceptical onlooker - were compelled to weigh up just how big a moment this is for women's football.
Ash – The FIFA Fan
I play a lot of FIFA 15 (or 'feef' as it's known in my house). Not YouTube channel amounts but enough to know that if you're picking teams at random, you shouldn't turn your nose up at Torino (trust me).
From my perspective as a regular player of the FIFA games, the news about women's teams joining the game is great. It brings variety to the game and I'm even willing to get over my disappointment that Stephanie Roche won't be involved, robbing me of hours of fun trying to recreate the worldy that almost won her the Puskas Award.
Looking at it from a work viewpoint, I'm similarly positive. Women's football is on an upwards curve and it's beneficial to football – and society at large – to work towards gender equality. It's also a smart move from EA Sports to open up new audiences among women and, in particular, the huge market of women who play football in the US. I hope the move is as much a reaction to the reinvigorated push for gender equality as it is a sales-driven decision.
However, as with all cause-driven marketing, the potential benefits come with a responsibility. Make no mistake, this is just a small step and there will inevitably be a backlash. One look at the ongoing 'Gamergate' saga gives an idea of how hostile the gaming market can be. 
The test will be how EA and FIFA react. Take a step back and the impact could be damaging. Commit to the cause in the long-term and they have an opportunity to engage with new audiences and show themselves as a force for positive change.
Early noises from EA Sports seem to be promisingly defiant, so for now we should applaud the intent but there's no time for back-slapping just yet. There's a long road ahead.
Sophie – The Sceptic
 I can't say I'm very familiar with playing the FIFA games, unless you count spending a few minutes trying to rustle up enough coordination on the controls to even run in the right direction (something I have failed at miserably on many occasions!)
Saying that, I can't remember a time when I wasn't aware of the FIFA games and I'm sure I wouldn't be alone in saying that it would be the first game that springs to mind when asked to name something played on a console. This alone highlights how much of a powerful statement it is to include Women's teams in such a well-known game.
This recent step by EA Sports towards some kind of equality between male and female sport may seem incredibly minor in the wider context of the imbalances seen in TV coverage and sponsorship opportunities. 
However, when you delve a bit deeper, it might prove more impactful than initially thought. If the next generation of participants and fans grow up seeing women's and men's football at least vaguely on par with each other on something as influential as the FIFA series, that could be quite a powerful thing in changing attitudes. Their presence in the game will introduce female players to a wider audience, which in terms of building exposure for the sport is sure to have a positive effect.
Looking at it from a gender equality point of view, it is hard to find a negative in this latest move from EA Sports. However when you work in the industry, you become trained to view news such as this through a different lens, and this lens is often tinted with scepticism.
The addition of female players to a game as iconic as FIFA is sure to create a stir. People don't like change and changing what is unfortunately established as tradition by a lot of FIFA players will create a backlash. But, in this day and age of marketing, is a negative reaction always such a bad one?
Sparking a conversation with the media and on social platforms is a common tactic employed by brands to drive fame and create publicity for their product or campaign. Whether this is a positive or negative conversation, it still remains a talking point and often a storm of negativity can end in a positive result.
Don't get me wrong, I think it is great that EA Sports and FIFA have brought about this change, I just hope it was a change for the greater good of women's sport and not just a clever one-off marketing campaign to build buzz around the launch of their new game.
H+K Admin